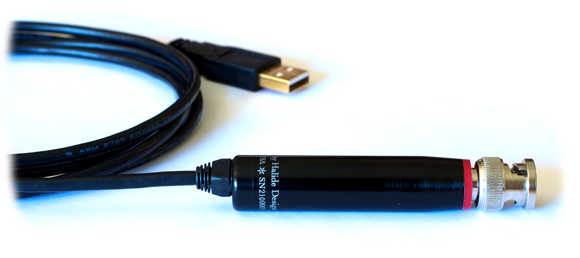 The single cable solution for bringing pristine, high-resolution digital audio from your computer to stereo.
The Bridge
---
With the new S/PDIF Bridge from Halide Design, it is possible to get a high resolution, ultra low jitter digital audio signal straight from your computer, with a single, plug-and-play cable.
Completely plug-and-play on both PC and Mac, the Bridge allows for 24 bit resolution at sampling rates up to 96 kHz, and works with virtually any file type and player.
The Bridge is build upon the solid foundation of the sophisticated USB audio receiver code, Streamlength™, by Wavelength Audio. Streamlength™ allows the extremely low phase noise clocks inside the Bridge to run as the master audio clock, resulting extraordinarily low jitter output. Since there is no resampling or reclocking, the footprint of the circuit becomes tiny - the Bridge runs smarter, not bigger.
Inside, highly filtered ultralow noise power regulation provides clean power rails for the internal circuitry. A high quality output transformer further isolated the output signal from any computer noise. For more details on the innards of the Bridge, checkout our design page.
"This simple, small, single cable solution incorporates innovative design and the current holy grail of USB implementations asynchronous transfer mode ... There are some fabulous DACs around without USB or FireWire input that will benefit greatly from the Halide Design Bridge. I highly recommend The Bridge from Halide Design ... " — Chris Connaker, ComputerAudiophile.com, (read full review).
The S/PDIF Bridge was awarded the coveted "class A" recommended component status from Stereophile magazine.

From the April 2011 issue:

"The Bridge ... produced a very clean datastream free from timing uncertainty; and with it's relaxed, grain-free sound, the Bridge excelled at coneying recorded ambiance and low-level detail, said JA" (Vol. 33 No. 12 WWW)
---
Choice of BNC or RCA connector. Clean, ultra-low jitter output.
Plug and play, high-resolution audio. In addition to playing standard CD resolution audio, the Bridge can play high-resolution audio files as well (up to 96 kHz, 24 bit). Hi res files are available for download at places such as HDTracks, as well as elsewhere. For best results, we recommend players such as jRiver or foobar for the PC, and Amarra Mini, AyreWave, or Pure Music for the Mac.
Cryogenic treatment. A long kept secret in the audiophile world, cryogenic treatment results in a dramatic improvement in sonic clarity and detail.
Manufactured lead-free, RoHS compliant in the USA. All are our products are sold with a 60 day unconditional money back guarantee and a one year warranty.
Questions or comments? Send an email to contact at halidedesign.
For information on setup, download the Quickstart Guide.
For information on how to purchase, visit our store.
Tech Specs
---
Power - supplied from USB connection. LC filtered (two pole passive) and down regulated; separate power rails for digital circuitry and master clock.
Drivers - Plug and Play, using Streamlength™.
Supported rates - 44.1, 48, 88.2, and 96 kHz (user selectable), at 24 bit resolution. (Note: Windows Vista / 7 currently requires WASAPI for non-resampled 88.2 kHz playback by plug-n-play USB audio products)
Isolation - output is fully isolated using a high quality digital audio transformer.
Connection - 75 ohm, available in BNC (gold center pin) and RCA (Eichmann silver bullet) versions.
Construction - CNC milled anodized aluminum enclosure, laser engraved. Double sided, four layer printed circuit board.
Length - 6 feet, extends to 16 feet with optional extension cable.
---

(Japanese)